Hotels and other Accommodation
World Nomads
The Travel Insurance with the largest coverage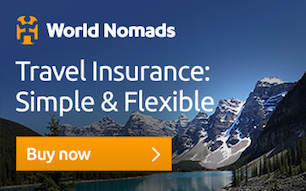 ---
Other tourist destinations in:

Tanzania
---
Zanzibar
Zanzibar is the name given to the set of two islands of the Zanzibar Archipelago, off the coast of Tanzania, on the East African bank, of which they form a semi-autonomous state of that country. The two islands are called Unguja (Swahili) or Zanzibar and Pemba and are separated from the mainland by the Zanzibar Canal.

The capital of the islands is in Unguja and is also named after Zanzibar. The old part of the city is called Stone Town (Stone Town or Mji Mkongwe in kiSwahili) and is a UNESCO World Heritage Site.

Zanzibar is also the birthplace of singer-songwriter Freddie Mercury.
---
Tourism
Zanzibar is a set of islands off the coast of Tanzania, having a semi-autonomous status. The archipelago is made up of the Zanzibar and Pemba islands, and a myriad of islets surrounding them. The area's main city is also known as Zanzibar, and its "Stone Town" has been declared a UNESCO World Heritage Site. Its unique architecture, a cross between Arab, Hindu, African and European influences, has a harmonious air, typical of East African merchant ports, widely used in slave trade.

Despite its rich mercantile and historical past, its beautiful white sandy beaches (and that is not a figure of language) and blue sea (idem) are the major attraction of the region. Being an area of ​​strong Muslim influence, it is recommended to be discreet and follow some rules of coexistence.
---
Gastronomy
Zanzibar Gastronomy in its restaurants is a fusion of Arabic, African and Indian cuisine. Spices are a star ingredient on this island that gives you plenty of possibilities to enjoy incredible cuisine. A cuisine that relies on cinnamon, ginger or cloves on any self-respecting dish.

The cuisine of Zanzibar is very interesting, it is a cuisine that mixes various cultures and tastes with cassava. All spices come with rice dishes, corn dishes and many dishes are made with flour. Zanzibar's cuisine is undoubtedly a good way to enjoy good food.

Ugali is a perfect dish to enjoy delicious Zanzibar cuisine. This dish can be found in any restaurant.
Stone Town or Zanzibar ... are the places where you will find a larger number of restaurants where you can enjoy the local cuisine during your holidays on this island.

Typical dishes include ugali, biriani, spicy rice with potatoes, onion, pepper and meat or fish, biriani with lamb ... and for dessert, the wide variety of tropical fruits that can be found in this tropical paradise.

Lamb, meat and seafood are the highlights of Zanzibar gastronomy. On this island, given its Arab influence it is difficult to find pork.

In more touristic places you will also have the opportunity to enjoy Asian and European restaurants, such as a good Italian, French or Japanese restaurant. These kind of restaurants are very easy to find on this island.
---
Weather
Equatorial climate regulated by the winds of the Indian Ocean. February is the hottest month on the island of Zanzibar. Heavy rain from March to May and light rain in November and December. The climate is dry and warm from June to October on the island of Zanzibar.
---
Other world tourist destinations
---
City destinations and weekend getaways
Why to book with TOURISTIC ROUTES
The best prices
Our partnerships with the world´s largest operators offer research on the best market prices.
More options
At Rotas Turisticos you can book the hotel, buy the air ticket, book the transfer from the airport to the hotel and vice versa, book the local excursions, rent the car, take travel insurance and consult the places to visit and where to go.
Holiday Tips & Destinations
Hundreds of holiday destinations with all the options that allow you to easily choose the destination that best suits your dream vacation.
---
---